Schedule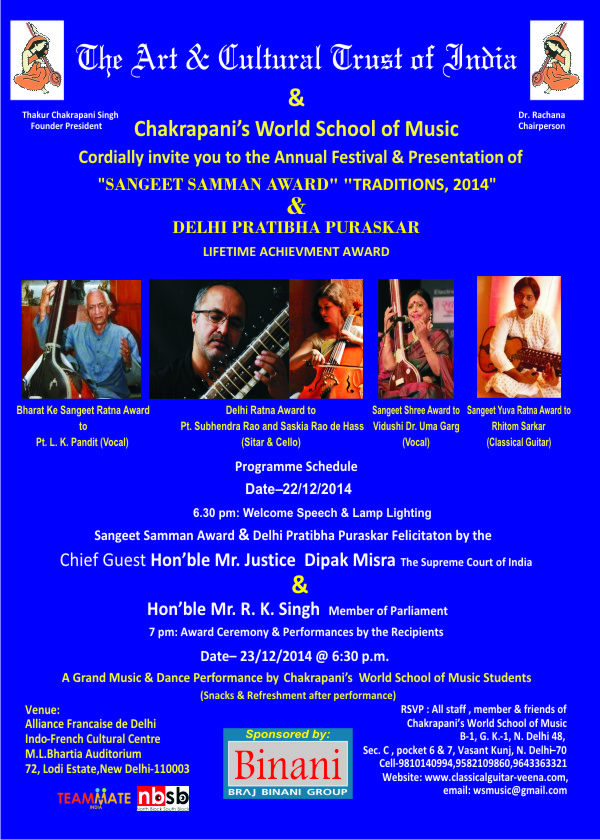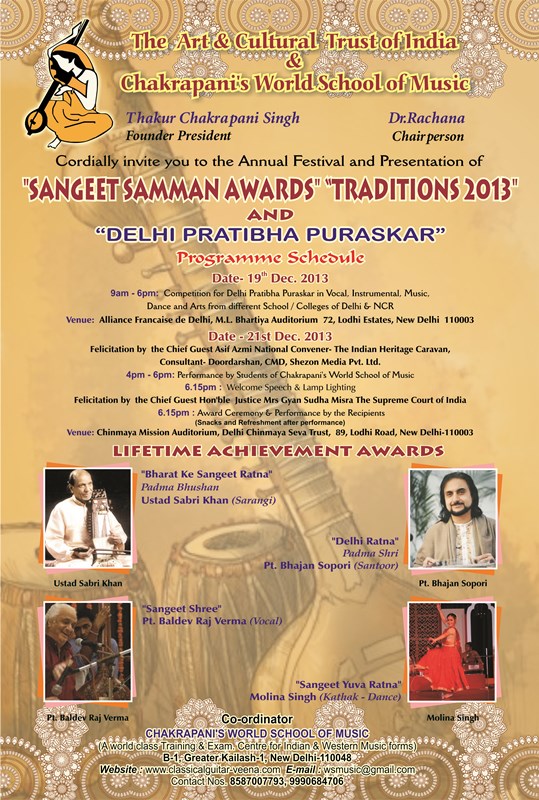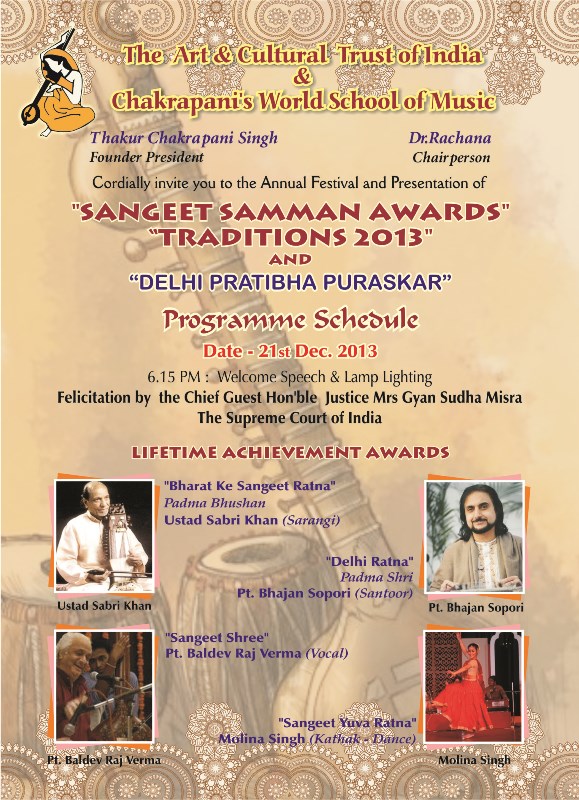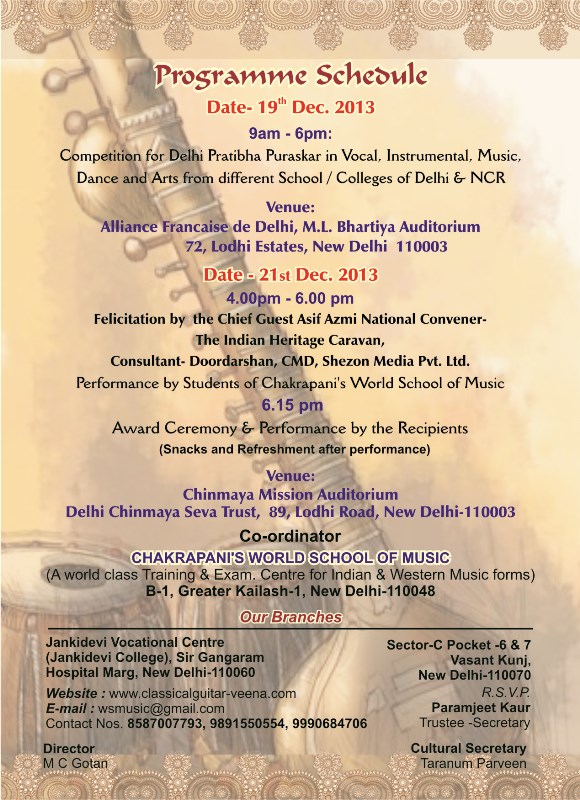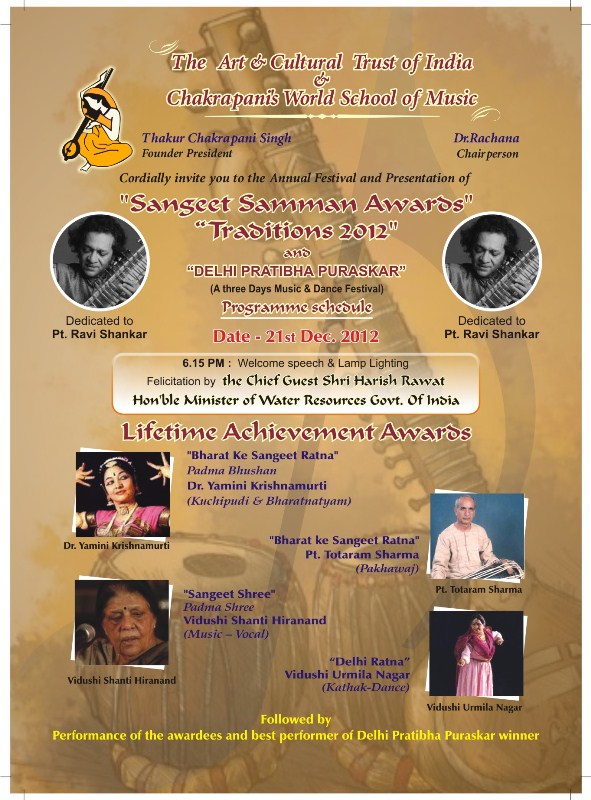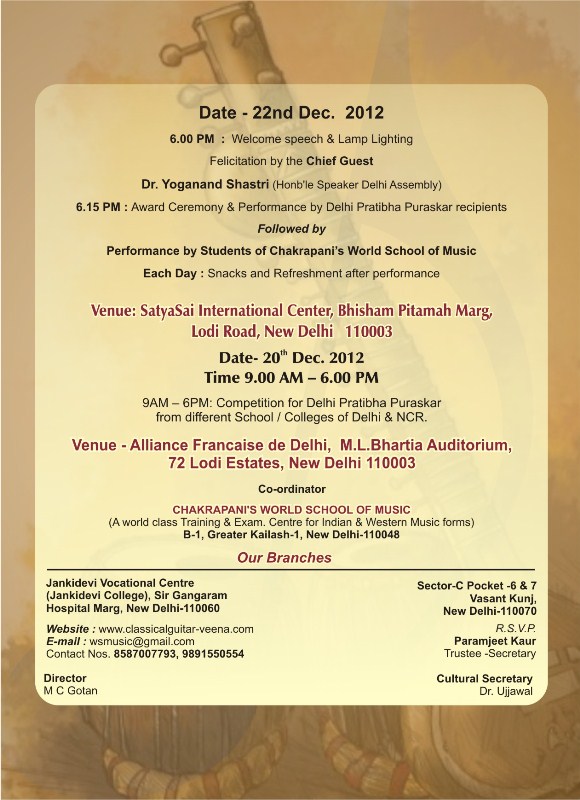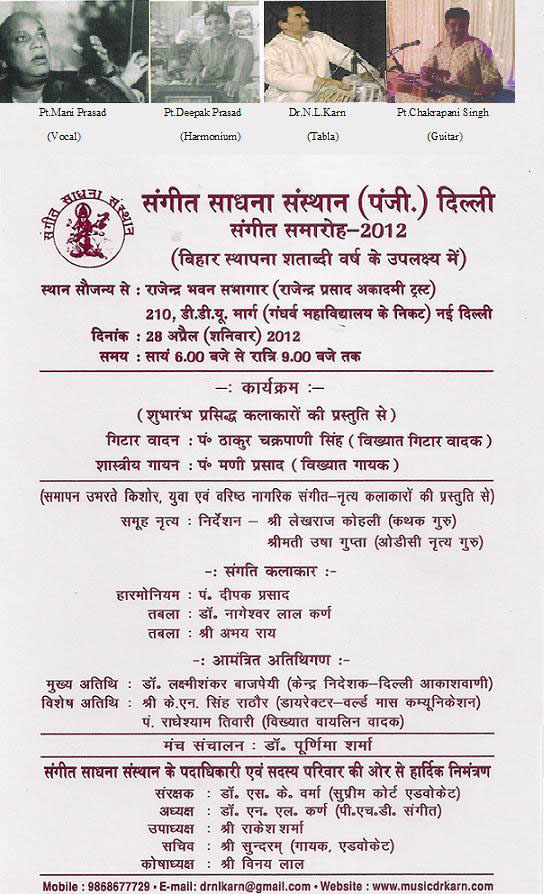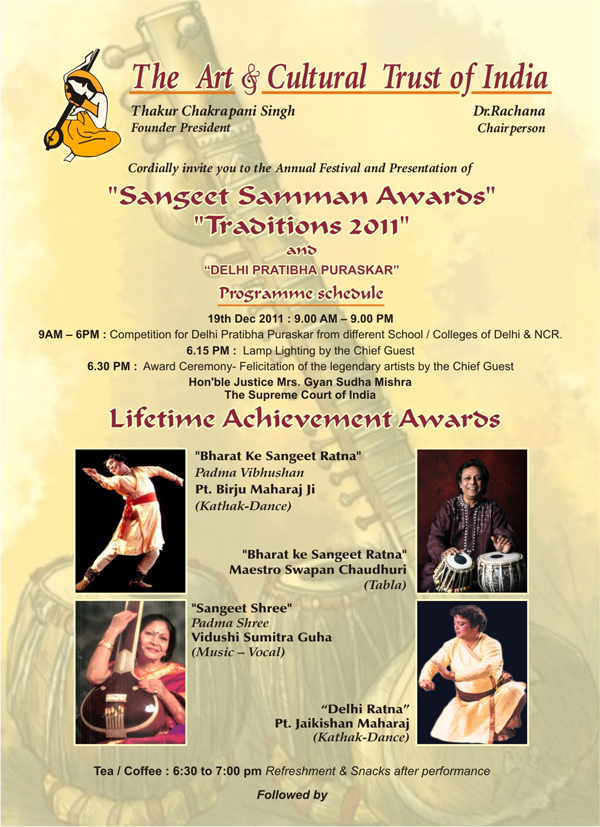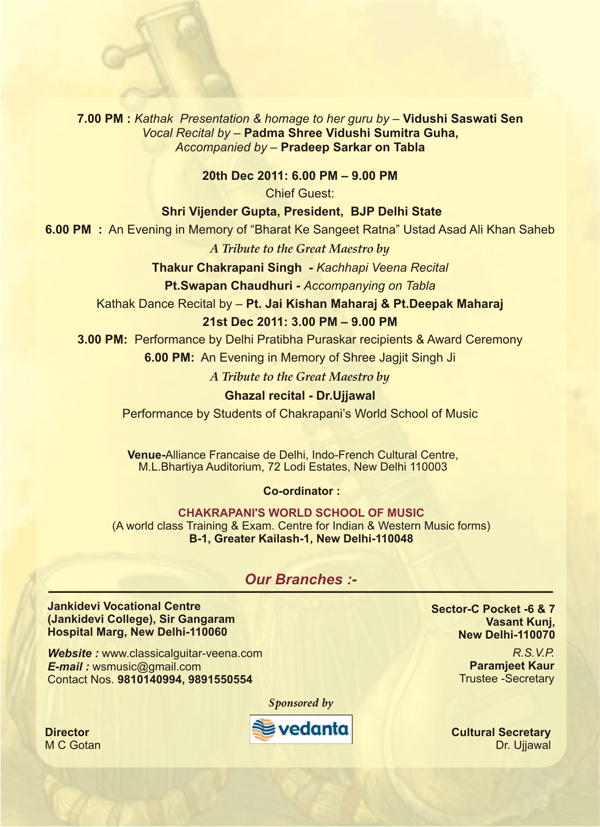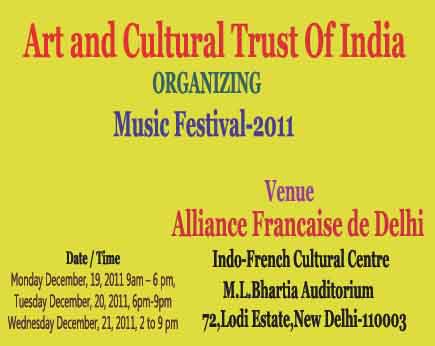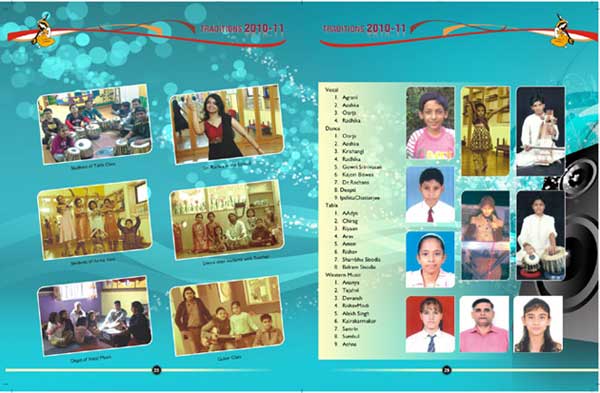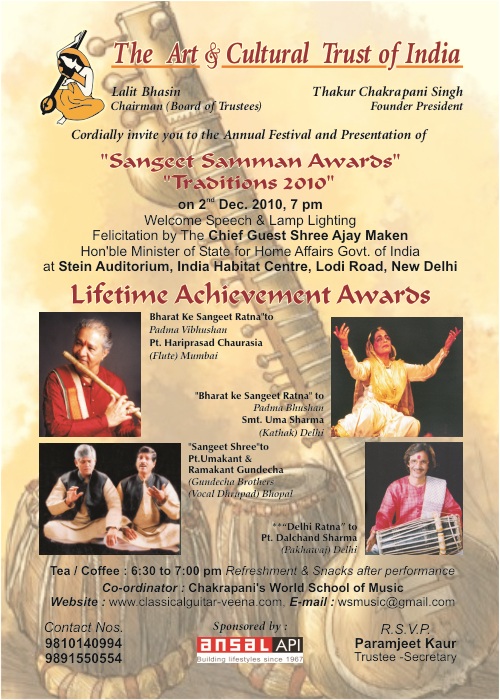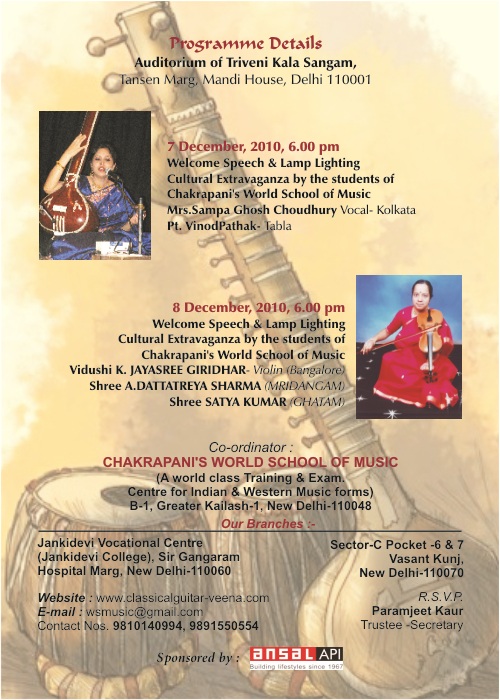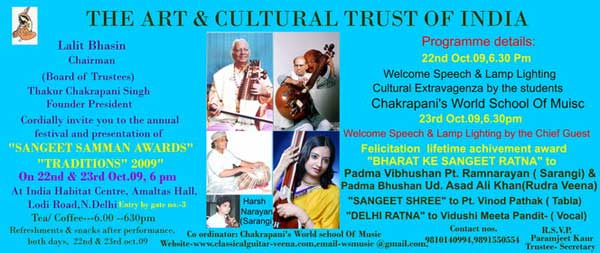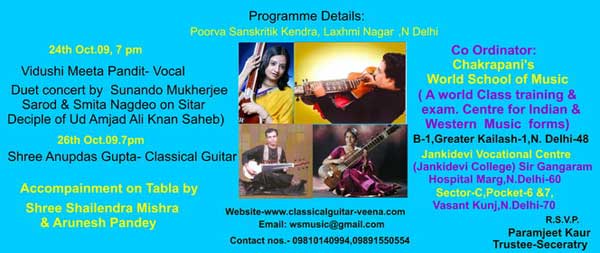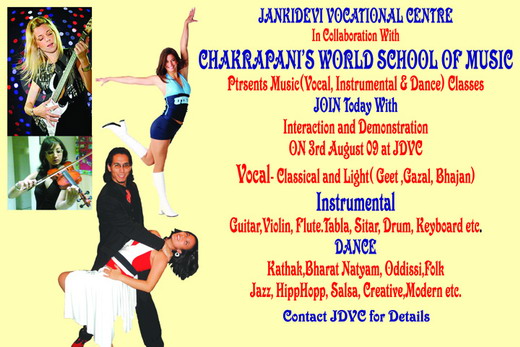 Art and Cultural Trust Of India

ORGANIZING

Music Festival

On 22nd & 23rd Oct. 09 at

at India Habitat Centre 24th & 26th oct.09 at Poorva Sanskritik Kendra New Delhi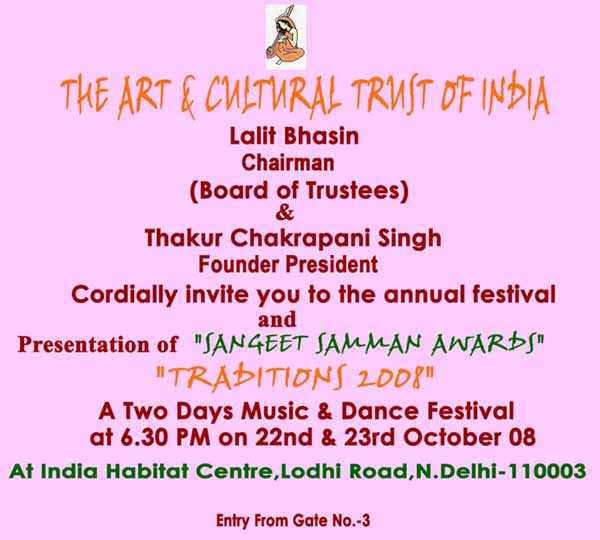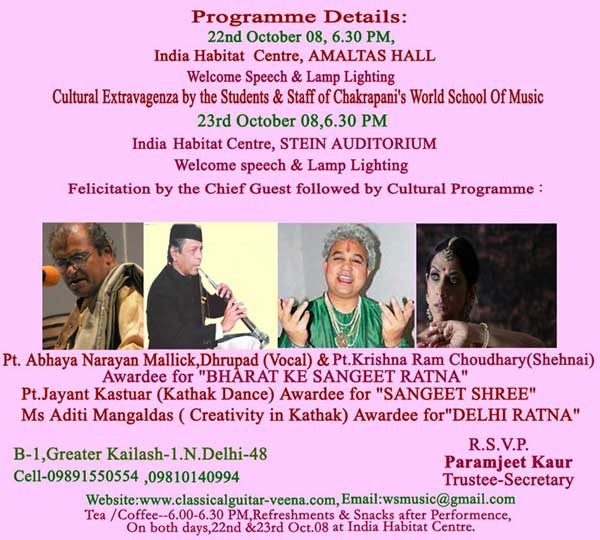 On 21st July 08

Ms Mallorie YAN, Claire Marjorie and Marine from France going to present the britany culture and music. At Chakrapani's World School Of Music, B-1, Greater Kailash-1, New Delhi-48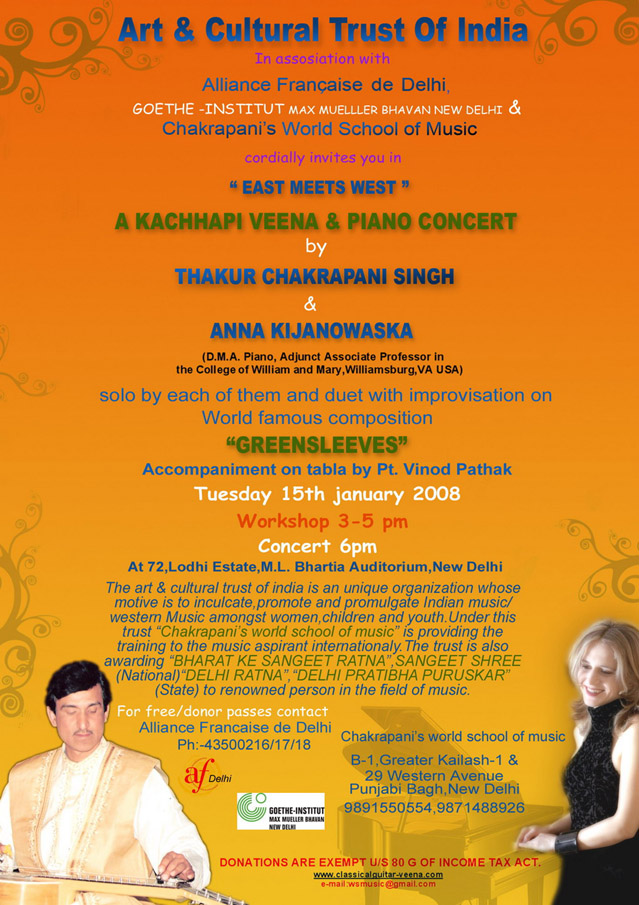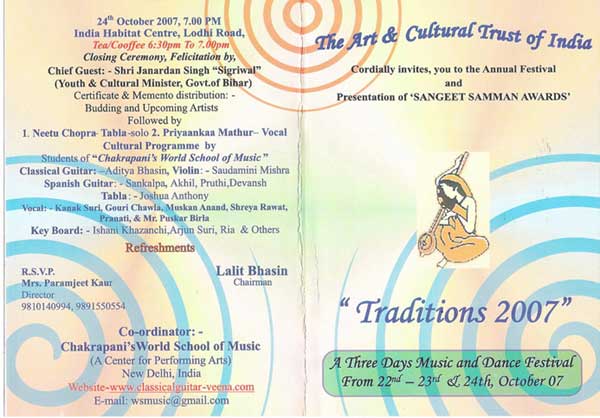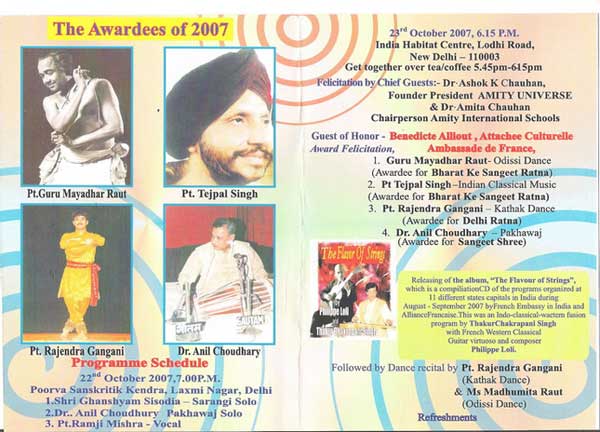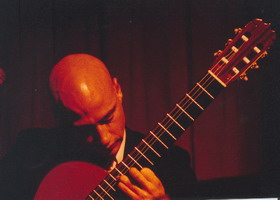 Loli

The Delegation Generale de l'Alliance Française de Paris en Inde et au Nepal

French Embassy in India, through the Alliance Francaise network in India, organises the tour of Philippe Loli from France and

Thakur Chakrapani Singh from India

from 20 August 2007 to 18 September 2007.

The Artiste will be in concert on the following dates, performances organised in each city by the Alliances Françaises

* 23/08/2007 chandigarh

* 25/08/2007 Delhi x 2

* 28/08/2007 PUNE

* 30/08/2007 Ahmedabad

* 01/09/2007 Hyderabad

* 04/09/2007 Bombay

* 07/09/2007 Coimbatore

* 08/09/2007 MADRAS

* 11/09/2007 Pondichéry

* 13/09/2007 Trivandrum

* 15/09/2007 Bhopal

* 17/09/2007 Calcutta
Art and Cultural Trust Of India

ORGANIZING

Music Festival

On 22nd Oct. 07 at PSK,

23rd &24th of Oct.07

at India Habitat Centre
Chakrapani's World Scool of Music is celebrating World Music Day in school's premises today (21/06/07) at B-1, Greater Kailash-I. You are cordially invited to the program. This program will be live telecasted between 6-7 pm today on the Dilli Aaj Tak Channel.
The Chakrapani's World School of Music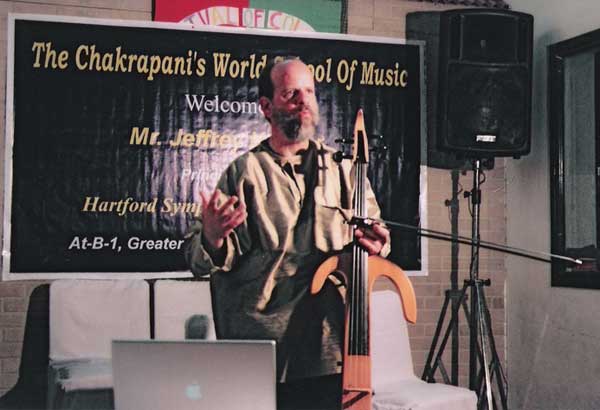 Supported by

U.S.Embassy New Delhi

Cordially invites you to

An Evening on the Cello

Concerts, lecture, Demonstration by Jeffrey Krieger, Principal Cello, Hartford Symphony Orchestra,USA, on his e-

At Our School, B-1, Greater Kailash-1, Friday, March 2nd, 4.00-6.00 pm.

The performance would be followed by an informal interaction with the musicians over tea and snacks

The following worldwide security regulations are currently in force at the School

Security check by guards at the entrance

Mobile phones to be left at the reception

We regret any inconvenience these measures may cause you.

Under the aegis of The Art & Cultural trust Of India Chakrapani's World school of Music Delhi is going to organize monthly cultural programme for & by budding & up coming artists at India Habitat Centre. The Concern artists requested to send us their profile by email ( wsmusic@gmail.com) to us.